Getty Images; Melissa Herwitt/E! Illustration
New year, new music!
We're just a few short days into both a new year and new century, and while much about the road ahead in 2020 remains entirely uncertain, one thing is for sure: there's going to be plenty of new tunes heading our way. Already, we've gotten the first new single from Justin Bieber in years and are prepping ourselves for impending album releases from the likes of his ex-girlfriend Selena Gomez, Halsey and Kesha this month alone.
But that's not all there is to be excited about as we begin to map out the 12 musical months ahead. From undated yet confirmed releases from faves like Dua Lipa and The Dixie Chicks to hopeful album drops from Normani, Lady Gaga and Rihanna–we know, we're always talking about that last one. But we really think this might be the year she finallllllly comes through for us!–there's a lot to look forward to.
Here are our picks for the 20 albums to be most excited about this year!
Interscope Records
Selena Gomez: Rare
After kicking off a new era with the back-to-back release of singles "Lose You to Love Me" and "Look at Her Now," Selena finally drops her long-awaited new album Rare on January 10. Expect more of the smooth, slinky pop sounds of frequent songwriting collaborators Julia Michaels and Justin Tranter, features from 6lack and Kid Cudi, and a diary approach to the songstress' dramatic last few years in the lyrics.
Capitol Records
Halsey: Manic
After living behind the amalgamatic pseudonym for her first two albums, Ashley Frangipane plans to introduce herself to the world on her third studio album, due January 17. (The LP kicks off the a track entitled, appropriately enough, "Ashley.") Look for interlude features from Suga of BTS, Brockhampton collaborator Dominic Fike and Alanis freaking Morrissette alongside previously released hits "Without Me" and "Graveyard."
RCA Records
Kesha: High Road
A decade after roaring onto the scene with her debut album, Kesha returns to those fun-loving pop roots for her fourth LP High Road, due January 31, while not completely abandoning the softer and more serious introspection of 2017's Rainbow entirely. As she explains herself in second single "My Own Dance," "'You're the party girl, you're the tragedy'/But the funny thing's I'm f–king everything." Expect this to be Kesha, fully realized.
Epic
Meghan Trainor: Treat Myself
Meghan's oft-delayed third studio album finally sees the light of day on January 31 after an originally scheduled release date of April 2018 and the release of singles "No Excuses," "Wave," and "Evil Twin." Expect 15 anthems oozing with the singer's signature celebration of self-love and empowerment.
Island Records
Oh Wonder: No One Else Can Wear Your Crown
After starting off a new era with the luminous lead single "Hallelujah," the London-based alt-pop duo will release their third studio album No One Else Can Wear Your Crown on February 7, all written and recorded in their home studio. If you haven't gotten lost in their shimmering sounds yet, now is the time to get on board.
Big Machine
Carly Pearce: Carly Pearce
In advance of her self-titled second studio album, rising country starlet Carly Pearce hasn't made one false step. From the excellent duet with Lee Brice "I Hope You're Happy Now," the heartbreakingly sentimental "It Won't Always Be Like This," and the just-released flirty "Call Me," she's only ratcheted up the excitement for the LP, which features songs from the likes of Thomas Rhett, Kelsea Ballerini, Luke Combs and more of Nashville's best. Look for the album to be the perfect soundtrack to your Valentine's Day when it's released on February 14.
Theo Wargo/Getty Images for iHeartMedia
Monsta X: All About Luv
2019 was a dramatic year for these K-pop princes, who signed with Epic Records in May before seeing themselves drop in ranks down to a sextet in October after the sudden departure of singer-songwriter Wonho in the wake of allegations made on social media regarding past behavior. But they'll be kicking off 2020 in a big way with the release of this, their first all-English album, on February 14. "We are super excited about our new English album," they said in a statement announcing the LP. "It's a Valentine gift to all of our [fans known as] Monbebe who are standing by our side day and night. This album talks about relationships, and things that we are all dealing with on a daily basis. We hope that our Monbebe all over the world will like it, and spread the word, after all, it's all about luv."
AWAL
Lauv: How I'm Feeling
After dropping a seemingly endless stream of bops throughout 2019, including the excellent "I'm So Tired…" with Troye Sivan and "F–k, I'm Lonely," featuring Anne-Marie, our new king of the sad banger is finally releasing his debut studio album, How I'm Feeling, on March 6. Expect more of the same on the LP. Much more, in fact—it's reportedly 21 tracks long.
Warner Records
Dua Lipa: Future Nostalgia
If "Don't Start Now," the disco-kissed banger of a first single released by Dua last year, is any indication, her sophomore effort is going to be massive. Pulling inspiration from artists as disparate as Gwen Stefani, Madonna, Moloko, Blondie and Outkast, the "New Rules" singer explained she wanted to "break out of [her] comfort zone and…make music that felt like it could sit alongside some of [her] favourite classic pop songs, whilst still feeling fresh and uniquely" hers. Between the aforementioned banger and the recently released title track, a delicious little dance track dripping in swagger, we'd say mission accomplished. Now if only we had a release date…
Matt Jelonek/WireImage
The Dixie Chicks: Gaslighter
Not much is known about the iconic country trio's long-awaited eighth studio album, their first since 2006's iconic Taking the Long Way, except that super-producer Jack Antanoff had a head in its creation and it's due sometime this year. With a climate that's just begging for Natalie Maines' outspoken commentary and Emily Strayer and Martie Maguire's expertise on all manner of string instruments, it can't come soon enough. Here's hoping they don't keep us waiting too much longer.
Youtube
Normani
Few music moments in 2019 were bigger than the splash Normani made in August with her astounding single "Motivation." A month later, the onetime Fifth Harmony member revealed that her debut album was "a little more than halfway done" and would be released sometime this year. If the breezy early-'00s R&B throwback of that track, along with its killer choreographed music video, are any indication, she's got big things in store for us. So we'll be patient. For now.
Gabriel Olsen/Getty Images
Ellie Goulding
Beginning with 2018's "Close to Me," Ellie's released a steady stream of tracks meant to tease her forthcoming fourth studio album, the long-awaited follow-up to 2015's Delirium. And while the LP was rumored to drop sometime last year, the wait continues. On New Year's Day, the newly married singer—she wed art dealer Caspar Jopling in August—tweeted "EG4 // 2020." Hopefully that's sooner rather than later.
Alberto E. Rodriguez/Getty Images for dick clark productions
Ava Max
The uniquely-coiffed Ava had a big year, riding on the success of her smash breakthrough single "Sweet but Psycho" as it climbed all the way to No. 10 on the Billboard Hot 100. Despite releasing a string of singles throughout the year, she confirmed on October as she accepted Best Breakthrough Artist at the Virgin Atlantic Attitude Awards that her debut album full of "empowering pop that makes you want to go after your dreams and of course hit the dance floor," as she told Pop Crave, will be released sometime this year. The date, however, remains TBD.
Steven Ferdman/WireImage
The Weeknd
Over a year after releasing the EP My Dear Melancholy, Abel Tesfaye returned with both a new look and a pair of new singles, "Blinding Lights" and "Heartless," in late November. The two tracks are thought to be the lead singles off his upcoming fourth studio album, though details remain scarce. If we were betting people, however, we'd expect to hear more from the Canadian crooner soon.
Kevin Mazur/Getty Images for AG
Justin Bieber
It's been nearly five years since Justin Bieber released his last album, the smash hit Purpose, in November 2015. But we now know that his fifth studio album is on the way, along with a concert tour and a 10-episode YouTube Originals docu-series, Seasons. As a New Year's gift, he gave fans a taste of what's to come with the R&B-influenced lead single "Yummy" on January 3. Expect the untitled album sometime in the next few months.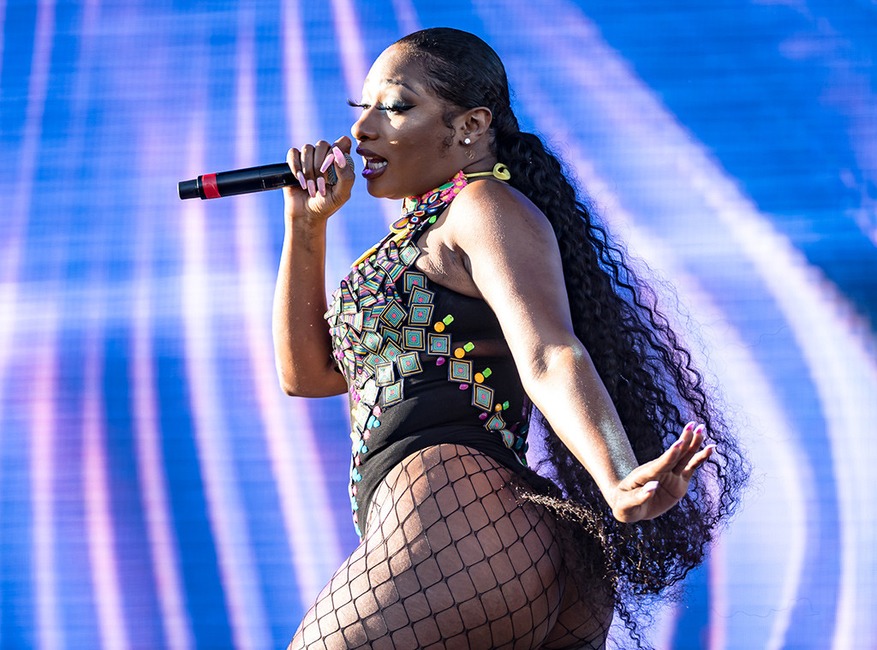 Steve Rose
Megan Thee Stallion
The up-and-coming rapper had a major moment in 2019 thanks to "Hot Girl Summer." A debut album, promised to have features from Kehlani and "a lot of ladies," as she told Variety, is on the way to capitalize on that momentum. And so is a new persona she's calling "Suga," who she told NPR we'll be meeting with the LP drops. "I felt like my mixtapes were me flirting with my fans," she added after her performance during night one of the Tiny Desk Fest in October. "I never wanted to do an album 'cause I was like, 'Oh, that feel like marriage. That's a commitment.' But now, I'm ready to settle down with an album."
Joseph Llanes for iHeartRadio
Sam Smith
After a triple-play release of the luscious dance tracks "Dancing with a Stranger," "How Do You Sleep?" and "I Feel Love" in 2019, our anticipation for the English singer's third studio album couldn't be higher. And luckily they've hinted at the fact that the new record will follow in line with the pop feel of their recent releases. (In 2019, Sam came out as non-binary and changed their gender pronouns to they/them.) "I feel like I have recently shown a side of me which I normally keep to myself or for my family and friends," they told the Zach Sang Show in October. "I showed everyone it and everyone loved it. It's almost given me permission to kinda do what I've always dreamed of doing but I was always scared to do, which is pop music." The newly-liberated Sam's album is due sometime this year.
ARMEND NIMANI/AFP via Getty Images
Miley Cyrus
After promising multiple follow-ups to the release of her excellent May 2019 EP She Is Coming later in the year, Miley's musical output sputtered out with the one-off release of breakup anthem "Slide Away" as her personal life took center stage. (There was the split from husband Liam Hemsworth, the short-lived relationship with Kaitlynn Carter, and the current coupling with Cody Simpson.) But on New Year's Day, she released a new promo pic with the caption, "New Year. New era." Look for new EP She Is Here soon. We think.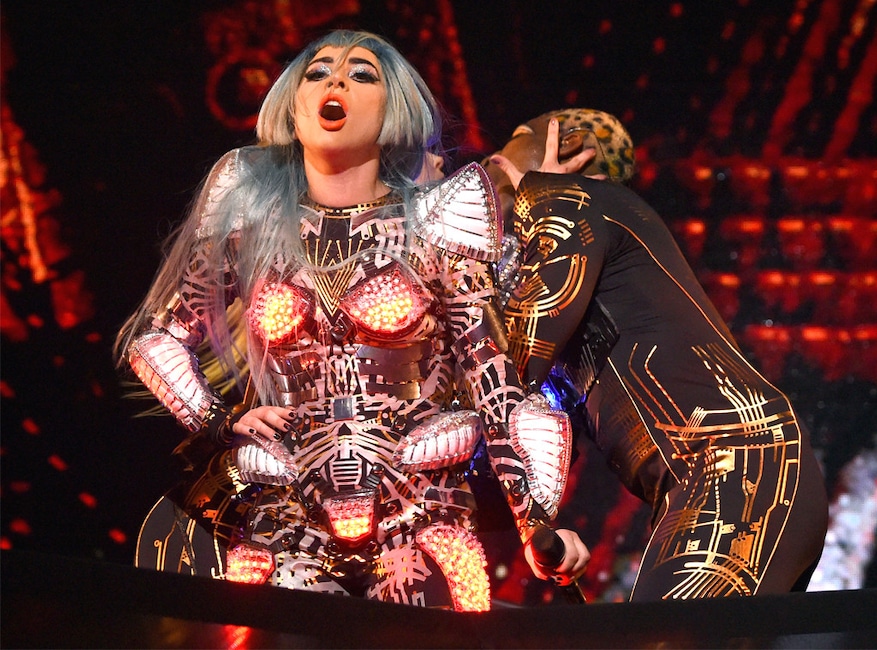 Kevin Mazur/Getty Images for Park MGM Las Vegas
Lady Gaga
Very little is known about Lady Gaga's forthcoming sixth studio album except that she is pregnant with it and it might be named Adele. (And even that, we doubt very seriously.) But rumor has it the project is nearly ready to go. What's more, we hear it's fantastic. Get ready.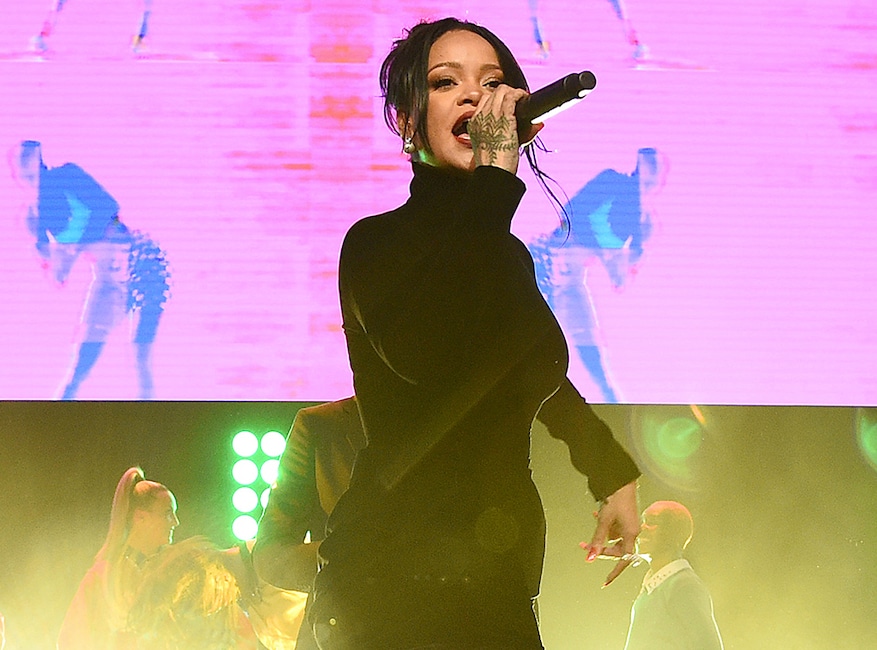 Dimitrios Kambouris/Getty Images for Diamond Ball
Rihanna
Is it one albums? Two? None? Who even knows anymore, but we remain ever optimistic that, after promising R9 sometime in 2019, we'll finally get the follow-up to Rihanna's excellent 2019 album Anti this year. Please, Rih. We need you.
E! News returns Monday morning, Jan. 6 at 7 a.m.!